Bento-Nite Grout Injection – Through wall/Under Slab
Let us handle your special needs. Learn more about the process:
A series of 1″ holes are cored through the wall/slab in a 2′ to 3′ grid pattern.
A metal packer complete with a gate valve is secured into the core.
Using a large tow behind machine a slurry of "Bento-grout" is injected through the wall creating a seal on the exterior. Injection will continue into each packer until either the material is noted at an adjacent packer or the back pressure is too great to continue.
Once all the injection is complete the holes are caped with a light grey waterproof mortar
Any materials which may have oozed out onto the floor slab or above grade will be scrapped up and removed.
Exterior Application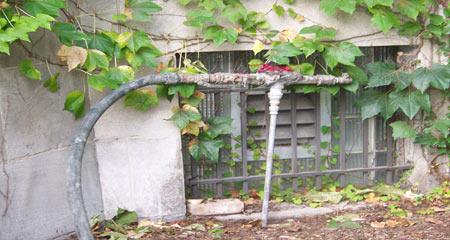 A series of spud holes are created next to the foundation.
An injection rod in placed into the spud hole.
Using a large tow behind machine a slurry of "Bento-grout" is injected down next to the foundation. In order to insure the best possible coverage the injection rod is slowy raised out of the ground during the injection process.
Any material which may have oozed out of the ground will be scrapped up and removed.
Fortress Stabilization
Soil pressure can fracture a block or concrete foundation wall causing horizontal and vertical cracks and/or bowing. The foundation must be stabilized to assure that you will retain the full value of your home.
Fortress Stabilization Systems has developed a carbon fiber/kevlar grid that will halt and further movement of a block or concrete wall. It will do it easily, safely and without any outside excavation.
The grid lies flat against the wall and when painted over are hardly noticable. Your wall will NEVER bow or crack again.
Turbo Seal
An innovative concept in waterproofing technology, Turbo-Seal is a flexible gel that bonds to any surface to create an impervious waterproofing membrane. Turbo-Seal can be applied as a membrane for new construction waterproofing or injection repair material in any environment.
Contact us Now
Let our professional provide you with a free, no-obligation on-site estimate.
Call now: (708) 978-7558